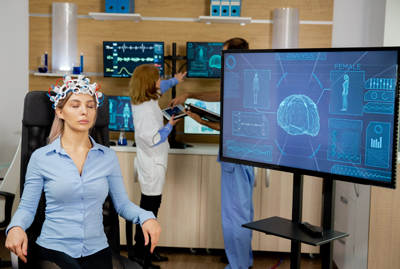 Pharma and Life Science companies face issues like complex procedures, compliance, patient recruitment, and high cost while conducting clinical trials. Most of the said companies have moved into digital mode and the usage of Artificial Intelligence (AI) technology has gained momentum. 
The top trends in the clinical trials market are AI, Data management, Wearables, Decentralized clinical trials, cloud computing, cybersecurity, 5G, and Blockchain. AI will have a 22% impact on the above trends.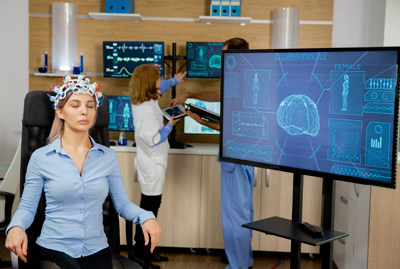 How does AI tech in clinical trials replace traditional studies?
Initially, the patients would visit the clinic and fill out the forms. The patient recruitment would be done basis of such data received. Incorrect patient recruitment leads to trial failure and negative ROI. The FDA approvals for successful clinical trials take time, tons of paperwork, and, investment.
AI in clinical trials is paramount as it can:
1) Optimize trial design
The trial design is the most important factor and having the right data is the key to success. The data has to be organized and analyzed in a way so that researchers can cite a meaningful pattern for the trial. Optimal trial design will help to lower the cost and time involved and it leads to the success of the trial. AI technology-backed tools like Natural language processing (NLP) and Machine learning (ML) help in data interpretation and optimize the trial design. 
2) Identify & recruit suitable patients for trials 
AI can speed up the process to identify and recruit eligible patients and create subgroups for trials. The data collected from EMR and social media platforms can be analyzed accurately and simplify eligibility criteria for cohorts as well. Aventior offers IT solutions to the healthcare domain. This allows them to focus on business goals instead of server hosting and its maintenance. Aventior delivers purpose-based AI in clinical trials to Pharma companies. It helps to digitize the clinical trial data collection process. It allows sponsors and CROs to capture data from participants remotely through one unified platform through a Data-driven analytics dashboard.
3) Ensure patient retention throughout their trial
It has been observed around 30% to 40% of recruits either drop out or turn non-adherent during the trial. To overcome this issue companies are opting for AI for clinical development. Aventior enhances the patient experience involved in the clinical trial. The use of eCOA solutions permits the patient to easily submit the samples from their homes. The wearables segment and smartphones backed by eCOA solutions help in accurate data capturing and reporting. Data captured makes it easier to understand patients' behavior during studies. The effectiveness and efficiency of eCOA solutions make it a rational approach for the future of clinical trials.
4) Help in data management and reduces bias in it
AI in clinical trials helps doctors and scientists in their decision-making process. It improves the accuracy of the trial and its outcome. Aventior-backed eCOA solutions ensure the transcriptional error is minimized and data accuracy is improved. It gives consistent and reliable data. Any issues related to data can be corrected in real-time.
5) Adherence to compliance 
Regulatory bodies have laid down stringent rules for data collection techniques and methods. The data collected has to be reported as per protocol requirements. Aventior ensures AI backed eCOA platform meets the regulatory guidelines.
6) Enhance the cost-effectiveness of clinical trials
Due to the above usage of AI in clinical trials, the cost of clinical trials is lessened and the effectiveness of outcome is enhanced. The usage of AI in Pharma and Life science is here to stay and evolve in the coming years.
Aventior had been involved with a clinical research automation company in the process to overcome the difficulties in digitizing the clinical trial data collection process. They wanted one unified platform to decentralize studies. As this will allow the CROs and sponsors to procure data from it. The company wanted to use serverless technologies as the base platform architecture. For this Aventior developed a purpose-led application on open-source technology. It was hosted on Amazon Web services with scalable infrastructure. GCP and 21 CFR Part 11 of compliance were taken into consideration and adequate privacy and security were built into the application. Aventior was able to deliver a secure platform that digitized clinical studies data collection with outcome visibility in real-time.
The advancement of AI in clinical trials has gathered momentum post-covid and this will continue to boom. Pharma and bioscience would focus on the execution and outcome of clinical trials and the IT solutions will be outsourced to third-party AI companies to handle. They can develop tailor-made efficient solutions and platforms to get positive ROI. 
For more information about our solutions for AI in clinical trials, write to us at info@aventior.com
To download the poster presentation, kindly enter the following details :